My freebie table. I <3 it!
I have been looking for a table forever to go next to my wing chair. My requirements: small, cheap, cute, cheap, sturdy,...cheap. So when I saw a table that Erin at
Richmond Thrifter
did using a lamp base and a picture frame, a light bulb went on over my head. Check out her
Lamp Base Turned Pedestal Table
post for complete details on how to make this. I made my table using a brass candlestick that my Grandma gave me ages ago, so I did a few different steps, but the idea is the same.
I used styrofoam to fill in the hole where the candle would go. I used lots of glue for this. I really couldn't figure out anything else to fill it in. If anyone has a better idea, please, please, please tell me.
My candlestick has a scalloped top. The styrofoam gives more surface area for the glue.
My photo frame was one of those with two panes of glass. I may play around with that more later. Etching, perhaps?
I used tons of glue for this.
Instead of fabric, I used scrapbooking paper and a paper doily. I love how this can be switched out depending on my mood or the season.
Berkeley enjoying her cup of tea in her favorite chair.
Erin also spray painted her table, but the only spray paint I had on hand was watermelon pink, so I'm leaving it brass for now. I kind of like the old patina, anyway. That, and I'm feeling lazy lately.
So, go check out Erin's blog. She has a lot of amazing stuff on there.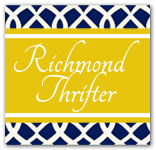 Linked up at: